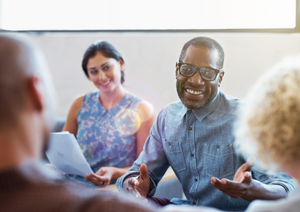 Why do we easily get on with some people and others just annoy us? Why do some people engage with you and others seem to actively drag you down?

Being a member, or a leader, in a high performing team, it really helps if you can understand how you come across. Are there simple tips that can help when interacting with others that can make life easier for you and for them?

In this talk we look at how to "read the room" and adjust your language and presentation style to increase your chance of achieving what you want. How to get on with, engage and even motivate the hardest members of the team to reach. Not changing what you say and act, just how you come across.

Instead of treating people how you like to be treated, treat them how they like to be treated.
1.See that the most important trait to have as a leader or member of a team, is self-awareness: "How do I come across to others"
2.How to "read the room" and adjust your style to achieve your outcome.
3.How to make work-life easier and more enjoyable for both you and others.
BVA Career Development
Thursday 17th November 2022 

Presented at London Vet Show 2022
Please note this session is not RACE-approved but you can still earn a CPD certificate