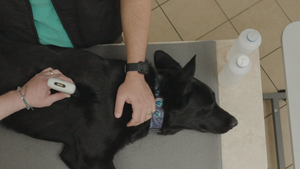 They're back! Award winning lecturers and leading experts in the field of veterinary point-of-care ultrasound (POCUS),  Drs. Søren Boysen and Serge Chalhoub return for another highly engaging and dynamic lecture, this time focusing on something often overlooked in veterinary medicine, lung consolidation! When and why does ultrasound detect lung consolidation, and how is it different than B-lines? What are the 3 common types of lung consolidation and how are they distinguished from each other? Also, what the heck are "ultrasound lung worms" – did Serge just make that up?!? Pleura and lung ultrasound (PLUS) terminology can be confusing, but it doesn't have to be (even the internist and criticalist can agree on that). This banter filled lecture, delivered by an internist and a criticalist (who rarely agree on anything) will describe the different types of lung consolidation commonly encountered in small animal patients, what differential diagnosis should be considered when consolidation is identified, and how the clinician's knowledge of radiograph interpretation is applicable to understanding lung ultrasound. If you can interpret the lungs on a radiograph, you already know how to interpret the lungs on ultrasound!
Ultrasound

Presented by:
Dr. Soren Boysen, DVM, DACVECC Professor, Veterinary Clinical & Diagnostic Sciences, University of Calgary 
Dr. Serge Chalhoub, BSc, DVM, DACVIM (SAIM), Senior Instructor, Veterinary Clinical & Diagnostic Sciences, University of Calgary 
Sponsored by: Clarius 
Presented as a Live Webinar | December 2022

1 RACE-approved CE credit can be earned upon completion of this course if your post-course quiz score is higher than 70%.