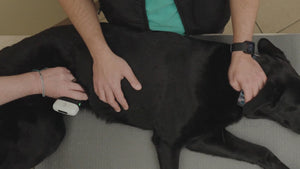 "When something is visualized, the truth of its occurrence or existence can no longer be doubted - Seeing is Believing". This proverb has particular meaning when it comes point-of-care ultrasound (POCUS); diagnostic confidence increases in 89.2% of human patients when general practitioners add bedside POCUS to patient evaluation! Recent surveys suggest 50-80% of veterinary clinics in North America have an ultrasound machine. Unfortunately, despite POCUS revolutionizing veterinary practice, many ultrasound machines are underutilized in general small animal medicine. This should not be the case! By asking clinically relevant, often binary response (yes/no) questions, veterinary POCUS can be rapidly and efficiently learned and applied by anyone in almost any setting! This banter filled lecture, delivered by an internist and a criticalist (who rarely agree on anything), will define the 5-point abdominal point-of-care ultrasound (APOCUS) exam, discuss its evolution from the FAST exam, and summarize some of the clinically driven abdominal POCUS questions you want to ask and answer in under 5 minutes.
Ultrasound

Presented by: 

Soren Boysen, DVM, DACVECC
Professor, Veterinary Clinical & Diagnostic Sciences, University of Calgary
Serge Chalhoub, BSc, DVM, DACVIM (SAIM)
Senior Instructor, Veterinary Clinical & Diagnostic Sciences, University of Calgary

Sponsored By: Clarius
Presented as a Live Webinar
July 2022

1 RACE-approved CE credit can be earned upon completion of this course if your post-course quiz score is higher than 70%.