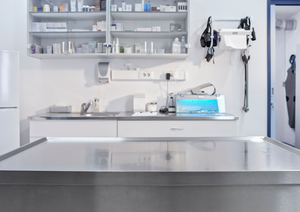 Alex Darvill, managing director of ACD Projects - experts in veterinary and animal welfare design and build, would like to share with you the latest trends in designing and building a veterinary practice.
If you are planning to redesign or extend your veterinary practice or build new, you should be aware of what other veterinary professionals are doing in the industry. From improving your staff areas to understanding what best type of property to invest in, you will learn what to look out for (and what not to look out for) throughout your individual journey. 
ACD Projects will also share with you the revisions to Building Regulations made in June 2022 – and the reasons behind these. Do you know what impact your veterinary building is having on the changing environment, and what you can do to help?
To learn the current trends in veterinary practice design and build, and find out what will work best for your project.
To gain an understanding of the recent changes to Building Regulations, and how these will affect your current or future project.
To understand how environmental change is influencing the building industry – and what you can do to improve sustainability in your practice.
Speakers: Alex Darvill, Managing Director - ACD PROJECTS
Presented at London Vet Show 2022
Business Theatre
Friday 18th November 14:35
Please note this session is not RACE-approved but you can still earn a CPD certificate