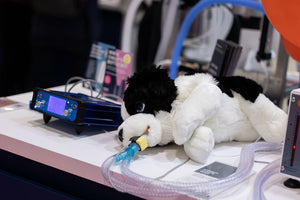 During everyday anaesthesia, we may find ourselves needing to give our patients intermittent or regular positive pressure breaths to support their ventilation, for example, during a long anaesthesia.

Unless you have an in-circuit manometer or a mechanical ventilator; how do you ensure you are providing these breaths to a safe pressure and at a sufficient rate to effectively support their ventilation?

The answer.. you don't!

In this presentation and demonstration, we will discuss safe intrathoracic pressures to deliver these manual or mechanical breaths to, as well as the consequences if they are not performed correctly, how to utilise equipment such as in-circuit manometers and IPPV buttons valves, and the difference between pressure versus volume cycling mechanical ventilation.
- Understand the impact of positive pressure ventilation (PPV) in our patients under anaesthesia
- How to safely provide PPV with equipment accessories such as in-circuit manometers and IPPV button valves
Speakers: Courtney Scales, Clinical Educator (Anaesthesia) - Burtons Medical Equipment Ltd

Presented at London Vet Show 2022
Please note this session is not RACE-approved but you can still earn a CPD certificate