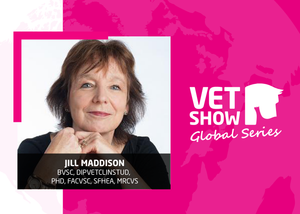 At what level does an increased ALT or ALP unequivocally indicate liver disease? When are bile acids useful and when are they not? What does a positive PLI really mean? Do the results mean the same in dogs and cats – if not, why not?

Liver and pancreatic enzymes and other diagnostic parameters used to assess the hepatobiliary system are commonly measured by veterinarians on unwell patients, prior to anesthesia or as a general metabolic profile for geriatric animals. Yet deciding exactly what the results mean and what they confirm or rule out can be difficult. During this lecture, I will discuss my top tips for interpreting clin path results related to the liver and pancreas focusing in particular on differences between cats and dogs.
Internal Medicine/Diagnostics
Presented by: Jill Maddison, BVSc, DipVetClinStud, PhD, FACVSc, SFHEA, MRCVS
Professor of General Practice, Royal Veterinary College London
Presented during Vet Show Global Series
June 2020
1 RACE-approved CE credit can be earned upon completion of this course if your post-course quiz score is higher than 70%.