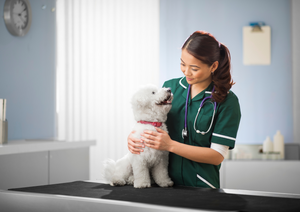 Am I dealing with haemic neoplasia? Reaching a diagnosis of leukaemia can be straightforward or fraught with challenges. Moreover, the spectrum of hemic neoplasia has vastly different clinical and prognostic implications hence a simple diagnosis of leukaemia is simply not enough. This presentation will provide an overview of the spectrum of canine leukaemia. We will review the different diagnostic tools which can be utilised to reach a definitive and complete diagnosis of leukaemia and gather the most amount of information to guide prognosis and formulate a treatment plan.
1. Become familiar with the common presentations and classification of leukaemia in dogs.
2. Identify the different diagnostic tools for diagnosis and classification of leukaemia utilising both in-house tools and the reference lab.
3. Learn what to look for in the dot plot and which are the key features to seek on film review.
4. Learn the principles and indications of flow cytometry and clonality testing (PARR); when and how to use them in the diagnosis of leukaemia.

Presented at London Vet Show 2022
Thursday 17th November 2022 12:15
IDEXX Adavcned Diagnostics
Please note this session is not RACE-approved but you can still earn a CPD certificate