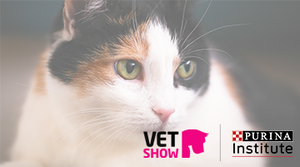 USE DISCOUNT CODE  "PURINA" TO WATCH FREE OF CHARGE.
Scientists at Purina have developed a revolutionary approach to the management of cat allergens. It has resulted in the launch of Pro Plan® LiveClear®, the first and only cat food that reduces the allergens on cat hair and dander.

This scientific breakthrough is the culmination of more than a decade of Purina research dedicated to finding a safe, effective and feline-friendly way to address a problem that impacts as many as one in five adults –and countless cat-owning households worldwide, limiting the amount of interactions that owners share with the cats they love.
Feline
Presented By:
Dr Ebenezer Satyaraj PHD
Director of Molecular Nutrition at the Nestlé Research Center


Dr Andy Sparkes BVetMed, Ph.D., DipECVIM, MANZCVS, MRCVS
Independent Consultant


Libby Sheridan MVB MRCVS
Purina® Veterinary Technical Affairs Manager, UK & Ireland


Sponsored By Purina


Presented as a Live Webinar
8th October 2020