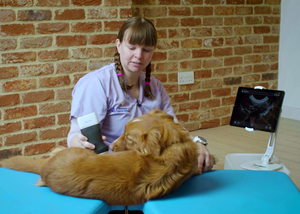 With improvements in veterinary ultrasound in recent years, the pancreas and adrenal glands are now readily visible in cats and dogs. In this webinar, learn rapid, low impact, POCUS techniques to confidently diagnose pathology common to these anatomical structures.

In this very practical session, ultrasonography educator Dr. Camilla Edwards teaches you how to examine the pancreas and the adrenal glands using the latest advancements in handheld wireless ultrasound.

Dr. Edwards shares clinical imaging, demonstrating the essential landmarks and showing you plenty of normal images. She also shares ultrasound imaging with pathology so you can hone your ultrasound interpretation skills to more quickly and accurately diagnose your sick patients.

Help boost your confidence in routinely identifying the adrenal glands and recognizing the most commonly observed abnormality, namely enlargement in the form of hyperplasia, nodules and masses. You'll learn to evaluate and measure the adrenal glands with great accuracy.

Advances in technology have made ultrasound more affordable and easier to use than ever before. Hone your ultrasound scanning skills by watching this webinar to help you provide the best care for your furry patients and to impress their owners.
Ultrasound 
Presented by: 
Dr. Camilla Edwards, DVM, CertAVP, MRCVS
Peripatetic Veterinary Ultrasonographer | Educator | First Opinion Veterinary Ultrasound


Oron Frenkel, MD, MS
Emergency Physician

Sponsored by: Clarius 
Presented as a Live Webinar, November 2021
1 RACE-approved CE credit can be earned upon completion of this course if your post-course quiz score is higher than 70%.