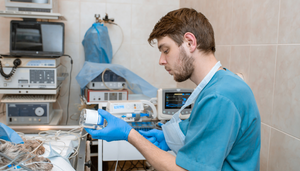 Lymphoma is a commonly encountered neoplasia in both dogs and cats, and can present in a variety of forms. There are multiple diagnostic and treatment approaches depending on variables such as anatomic form and immunophenotype. This lecture will cover the important aspects of diagnosing and staging lymphoma patients in order to optimise treatment approach in each case, and new chemotherapy treatments will be discussed alongside tips for safely administering chemotherapy to your patients.

Oncology
Presented by: 
Chair: Matthew Rendle, RVN Chair of VN Council, RCVS
Speaker: Dr Andy Yale Staff, Clinician in Small Animal Oncology, Royal Veterinary College
Presented at London Vet Show 2021
RVC Clinical Theatre 3
Thursday, November 11th 15:35 PM
Please note this session is not RACE-approved but you can still earn a CPD certificate.