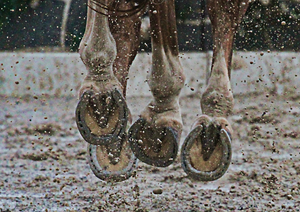 The effect of laminitis on the foot can be catastrophic for the horse resulting in lameness, pathological changes and chronic damage to the suspensory apparatus of the foot. It is essential to understand how medical treatment and farriery can help from the first aid stage, through to recovery. At each stage, there are medical treatments that are appropriate and various orthopaedic options that can optimise the reattachment of the lamellae and improve the mechanical function of the foot. Once stabilisation of both the medical and orthopaedic aspects is achieved the foot begins the process of recovery. Visible signs of change, both positive and negative, can be observed, and need to be monitored. Understanding the external signs seen in the foot will help to direct the trimming and shoeing plan for each horse with both veterinarians and farriers able to contribute to the process.

Equine
Presented by:
Chair: Dr Bettina Dunkel, Head of RVC Equine, Royal Veterinary College
Speaker: Mr Mark Trussler, Farrier, Trussler Farriery Services Ltd

Speaker: Dr Nicola Menzies-Gow, MA VetMB PhD DipECEIM CertEM(Int.med) FHEA FRCVS, Reader in Equine Medicine, Royal Veterinary College
Presented at London Vet Show 2021
RVC Equine Theatre 1

Friday, November 12th 09:10 AM
Please note this session is not RACE-approved but you can still earn a CPD certificate.