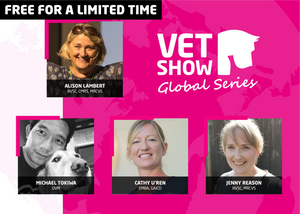 This course is FREE until August 22.

The discount will automatically be applied when added to your cart.
The global veterinary sector will be forever changed by the events of 2020. The Vet Profession: Unfiltered was a live (and lively) panel discussion that hosted folks who have become experts in COVID practice. These veterinary professionals shared their honest learnings and opinions on the events of 2020; the good, the bad, and the ugly as we try and process what it all means.
In this extended edition of the Vet Show Global Series, our panelists were able to shed any rose-tinted filters and talk honestly about the realities of the veterinary profession in a post-COVID-19 world. You'll hear tales from three vastly different veterinary hubs; Australia, the United Kingdom, and the United States. The audience had the opportunity to pose questions like: 
What does economic downturn mean for us and how can we prepare? What can we learn from different practices – who's getting it "right"? Is this the start of a telemedicine revolution? Are we getting what we need from regulatory bodies?
The questions asked were submitted by participants prior to and during the event and chaired by Alison Lambert, founder of Onswitch. 
Learning Outcomes
Explore different responses to Covid-19 from different countries and practice types
Grasp a better understanding of issues surrounding the future running of veterinary practices.
Identify various strategies to respond to various issues facing the veterinary world in 2020.
Wellbeing/Practice Management/Leadership



Alison Lambert, BVSc, CMRS, MRCVS
Founder, Onswitch
Michael Tokiwa, DVM
Veterinarian/Owner, Progressive Veterinary Care Connector and Radio & YouTube Personality
Jenny Reason BVSc, MRCVS
Director/Owner and Veterinary Surgeon, Bury St Edmunds Veterinary Centre
Cathy U'Ren, EMBA, GAICD
Chief Wellness Officer and Owner, Pet Wellness Centre, Burleigh Heads


Presented during Vet Show Global Series
July 2020