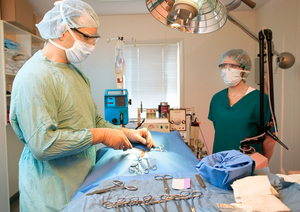 The prevention of surgical site infections is essential in reducing surgical related morbidity and mortality. In this talk, we will identify common surgical site infections and their causes. Using the latest evidence we will discuss the pre, peri and post-operative protocols that can be followed to help reduce the occurrence of surgical site infections.

Veterinary Nursing
Presented by:
Speaker: Miss Jessica Gilby, BSc (Hons) RVN Head Theatre RVN Queen Mother Hospital for Animals, Royal Veterinary College
Presented at London Vet Show 2021
Nursing Stream

Friday, November 12th 11:30 AM
Please note this session is not RACE-approved but you can still earn a CPD certificate.