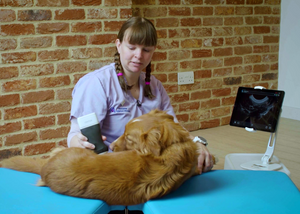 Veterinary ultrasound educator Dr. Camilla Edwards, DVM, CertAVP, MRCVS, will teach how to perform point-of-care ultrasound exams for the canine kidneys and bladder.
Bladder and kidney diseases are very amenable to the use of ultrasound imaging for investigation. In this webinar, participants will learn rapid, low impact, point-of-care first line scanning techniques for real-time answers to important clinical questions so you can confidently treat your furry patients faster.
Using ultrasound scanning video footage captured with Pippi, her Nova Scotia Duck Tolling Retriever, Dr. Edwards will share step-by-step instructions for participants to hone their POCUS skills. They will learn how to perform kidney and bladder exams using the latest advancements in handheld wireless ultrasound.
Dr. Edwards will share clinical imaging – comparing healthy to abnormal anatomy – to help participants advance their ultrasound interpretation skills to more quickly and accurately diagnose pathologies in the bladder and kidneys. They'll learn how to evaluate and measure the severity of hydronephrosis, to rule out masses and stones, and to monitor progress during treatment.
In veterinary medicine, ultrasound is the most commonly used imaging tool for assessing urinary tract disorders in small animals, because it's inexpensive, fast, easy to perform, and provides excellent contrast resolution. In this webinar, Dr. Edwards will offer practical tips and protocols to improve ultrasound techniques to get a real-time, accurate diagnosis for effective first-visit treatment plans to get your patients back in action faster.
Ultrasound

Presented by: Camilla Edwards, DVM, CertAVP, MRCVS
Peripatetic Veterinary Ultrasonographer | Educator | First Opinion Veterinary Ultrasound
Sponsored by: Clarius 

Presented as a Live Webinar | March 2022

1 RACE-approved CE credit can be earned upon completion of this course if your post-course quiz score is higher than 70%.