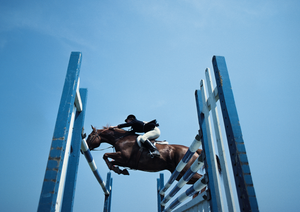 This presentation will describe how unwanted oestrus behaviour presents and how to determine that the unwanted behaviour is truly related to the reproductive tract of the mare or with the reproductive hormone balance as opposed to other body systems. The normal reproductive cycle of the mare will be described along with the features of the seasonal phases of reproductive activity. The techniques available to suppress oestrus will be described along with the mechanisms of action from the use of exogenous progestagens, prolonging the length of the mares owns luteal phase, through to suppressing the hypothalamic-pituitary axis through negative feedback of GnRH analogues or vaccinating against GnRH. The implications on the future reproductive performance of the mare will be discussed along with the implications of the techniques on the mare's eligibility to compete under various disciplines.

Equine
Presented by:
Chair: Dr Bettina Dunkel, Head of RVC Equine, Royal Veterinary College
Speaker: Mr Mark Trussler, Farrier, Trussler Farriery Services Ltd

Speaker: Dr James R. Crabtree, BVM&S CertEM(StudMed) MRCVS RCVS, Advanced Practitioner in Equine Stud Medicine Director at Equine Reproductive Services (UK) Limited & Honorary Lecturer, University of Liverpool Equine Reproductive Services (UK) Limited

Presented at London Vet Show 2021
RVC Equine Theatre 1

Friday, November 12th 13:30 PM
Please note this session is not RACE-approved but you can still earn a CPD certificate.