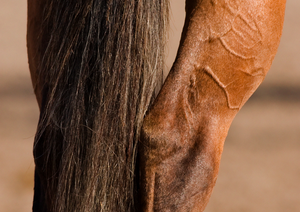 Soft tissue injuries of the hock are a relatively common injury in adult sports horses and should be considered if there is swelling in the hock region but where there are no, or minimal, radiographic abnormalities. This talk will focus on the diagnostic methods, in particular the ultrasonographic appearance and management of these injuries – including medial and lateral collateral ligament injuries of the tarsocrural joint, and the variety of pathology on the plater aspect affecting the hock extensors (gastrocnemius and superficial digital flexor tendon), the deep digital flexor tendon, and their accompanying tendon sheaths and bursae. Management methods include both conservative and surgical approaches and the talk will aim to help the veterinarian determine the best management strategy for each of the described injuries.

Equine
Presented by:
Chair: Dr Rhiannon Morgan, BSc BVSc CertAVP MVetMed(Hons) PhD DipECVDI MRCVS EBVS, European Specialist in Veterinary Diagnostic Imaging Lecturer in Equine Diagnostic Imaging, Royal Veterinary College

Speaker: Professor Roger Smith, MA VetMB PhD FHEA DEO LAAssoc.ECVDI DipECVSMR DipECVS FRCVS, Professor of Equine Orthopaedics, Royal Veterinary College
Presented at London Vet Show 2021
RVC Equine Theatre 2

Friday, November 12th 11:50 AM
Please note this session is not RACE-approved but you can still earn a CPD certificate.