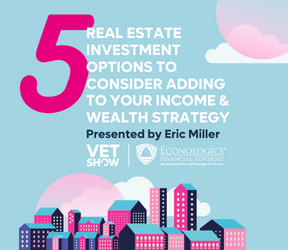 A variety of investment strategies are key to consider as one looks at the overall purpose, what you own, why you own it and what is missing. As a Practice Owner, a financial discussion just isn't complete without factoring how and why one might want to own Real Estate in one way or another, but first it's important to understand the options. That's why we created this educational webinar to focus on Real Estate as a tool to help practice owners build and keep wealth.
Presented by: Eric S. Miller
Co-Owner, Chief Financial Advisor Econologics® Financial Advisors, an INC 5000 Honoree
Sponsored by: Econologics® Financial Advisors
Presented as a Live Webinar

February 2023

1 RACE-approved CE credit can be earned upon completion of this course if your post-course quiz score is higher than 70%.